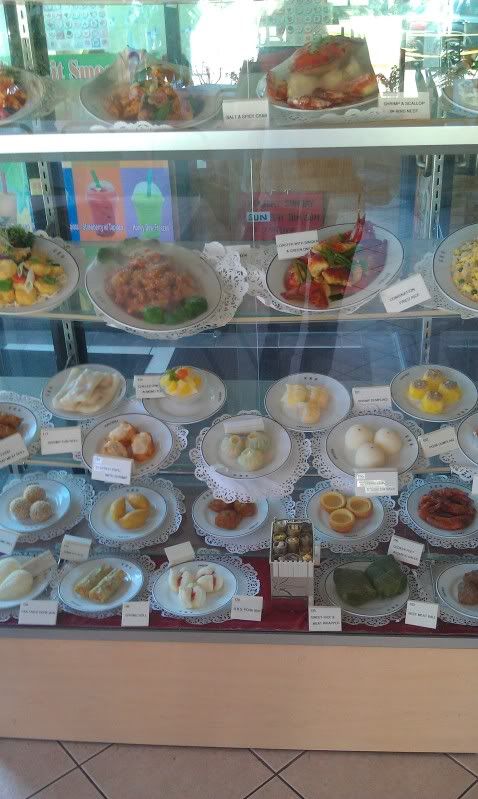 For our fourth outing, the Chicago Restaurant Club decided to go cheap, exotic and early. We got dim sum!
Now, not all dim sum restaurants are created equal. We liked Furama in Chicago's Uptown because, in addition to a menu of enormous variety, they have a huge upstairs ballroom that is open on weekend mornings. There are few restaurants in the city with such sprawling real estate, and rest assured, Furama still packs them in.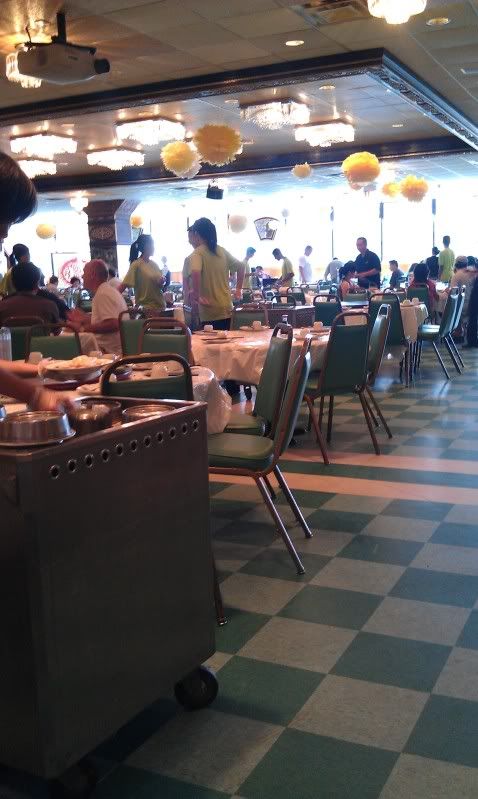 But before we get to the meal, let's observe the cheesy photo we took next to the entrance upstairs. I find it especially funny that, in addition to our we-are-tourists-at-your-restaurant pose, our hands are primly folded in front of our fronts while the Buddhas on either side are reaching to the ceiling in unmitigated joy.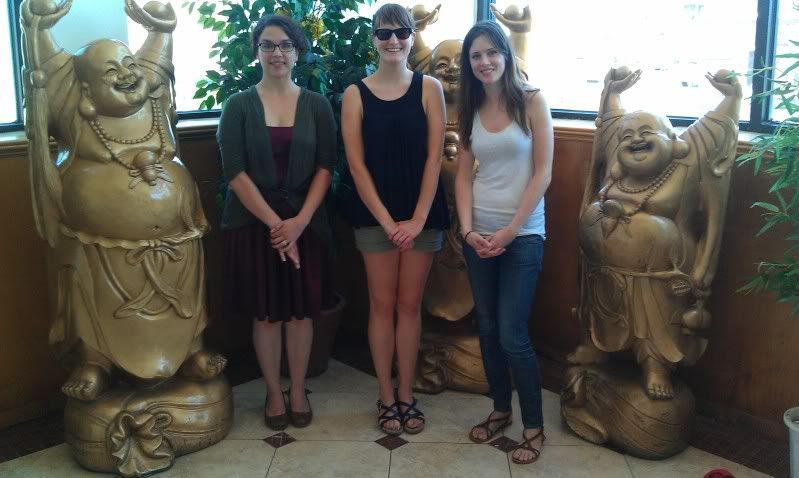 Anyway, the food was really, really good. Servers arrived in a steady stream with carts bearing different dumplings, buns, balls, puffs, cakes, salads, soups and every matter of delightful dim sum.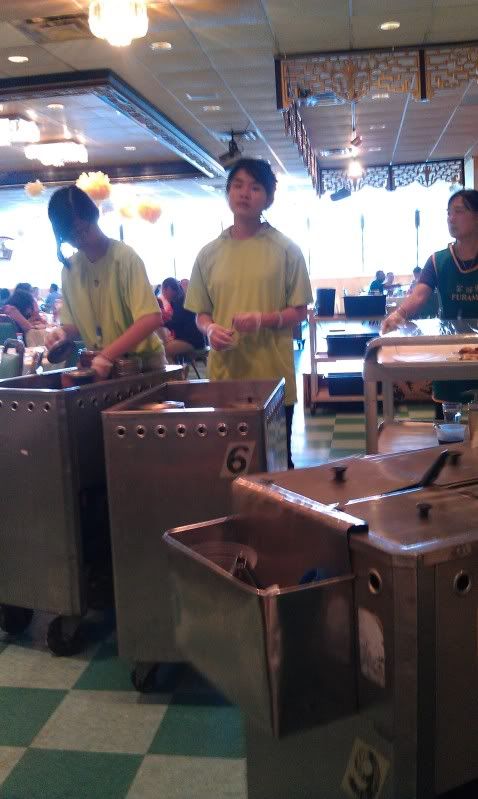 Nicole—a new member to the club, as well as a vegetarian—was still able to eat well in spite of the large presence of beef in the carts.
 Like this shrimp dumpling (pictured above in the central bowl by the teacup). You can barely see the banana leaf-wrapped beef/stickey rice roll to the right, but the noodle salad, pictured front and center, was delicious.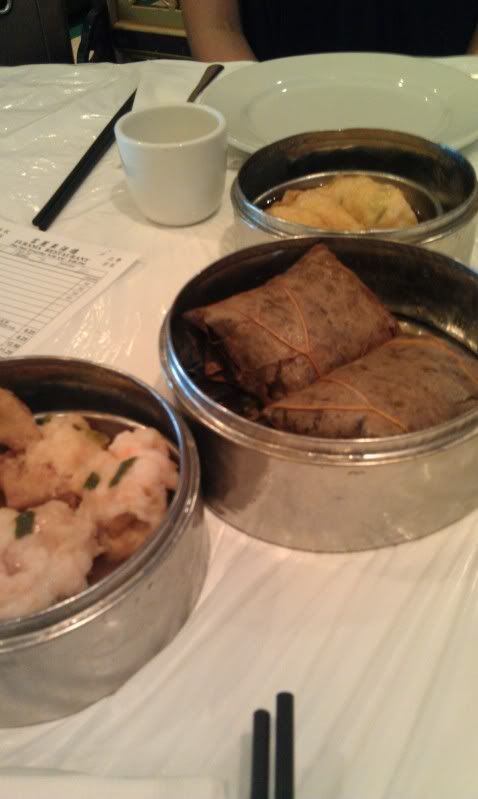 Here's a better shot of those banana leaf-wrapped rolls, with some shrimp-tofu dumplings up front.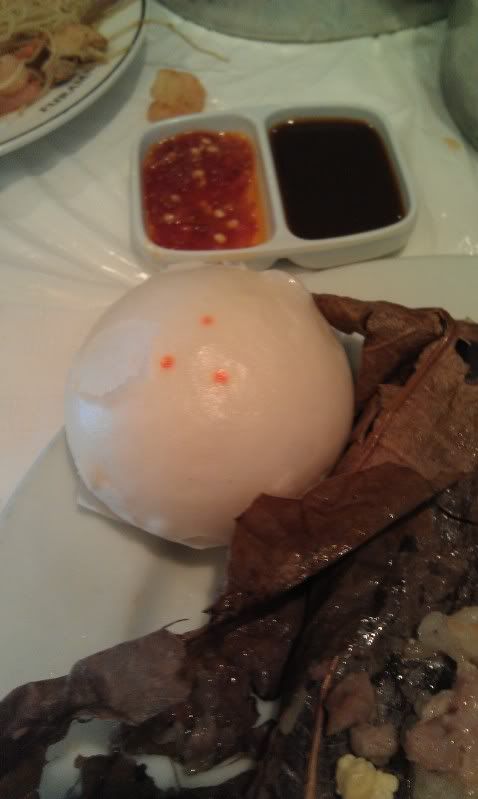 You can see on my plate, here, next to my mangled banana leaf concoction, an as-yet unadulterated sweet red bean bun. Oh, how I loved those buns!
We had much more than I had time to photograph, like fried sesame buns and steaming tofu soup, among other dishes. I did get time to capture our second dessert, little egg custard cakes.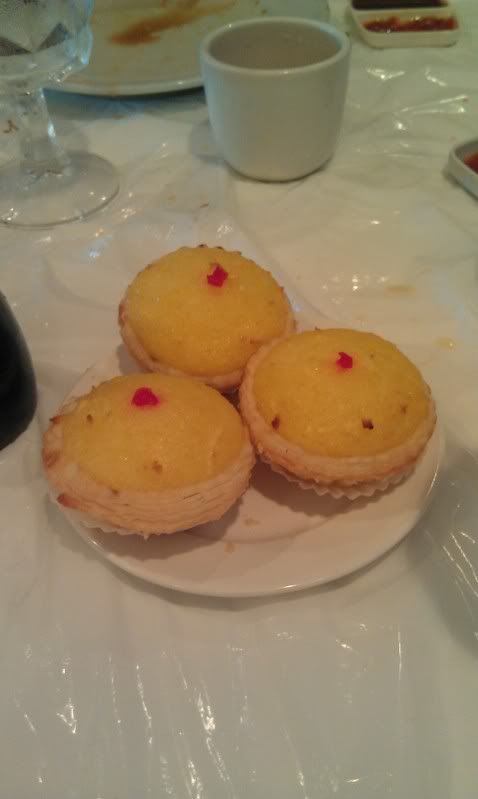 The experience in total was delightful. Mind you, we each had horrendously long treks from our respective neighborhoods, capped off by a bout of rain that soaked us and promptly stopped once we arrived that morning. But when we sat down, the excitement of the spacious, busy ballroom and cart after cart of unique dishes being offered to us at such a quick pace made for giddy moods. Nicole, Bethany and I discussed ladylike topics such as pap smears and iPad games for cats.
Oh, and it was, dare I say it, cheap. The total for the three of us was just above $35 before tip.